From the desk of Team Diego:
Data-driven approach to finding the best World Cup betting tips and strategies
With the 2018 FIFA World Cup kicking off in Russia soon, I have been thinking long and hard about how to profit from this year's tournament.
From 14 June to 15 July 2018, millions of soccer bettors around the world will be hoping to beat the bookies. Sadly, more than 95% will end up poorer.
For regular readers of this blog, you guys know that I am a draw specialist. I only bet on draws and that's how my team and I have been profiting from professional soccer betting the past 2 years.
The World Cup poses a few interesting challenges.
1) It is a mega event that only comes around once every four years. Our usual analysis that works brilliantly with league games can be mostly thrown out of the window. How do we process the data and statistics for a tournament like the World Cup?
2) The influx of millions of recreational bettors during this crazy month will likely mess up all of the bookmakers' odds. It will be a nightmare looking at the odds because they will be subjected to TREMENDOUS MARKET FAILURE. Hobbyist punters are not professionals – people are going to bet with emotions and national loyalties, not proper analysis of actual probabilities.
However, the good news is that this market distortion also presents smart bettors a valuable opportunity to make huge profits.
In light of these issues, I came up with some hypotheses about what it will take to beat the bookies in Russia this June.
I have 4 hypotheses/strategies for the Group Stages of the World Cup + 2 very different ones for the Knock-Out Stages/Play-Offs (Round of 16 onward).
I then dug out data from the previous World Cup in 2014 to test my theories. Bear with me and read till the end because I found some VERY interesting results from my number crunching.
How To Profit

During World Cup 2018
(GROUP STAGE)
Hypothesis 1:
Given the unpredictability of the World Cup, a possible strategy would be to BET AGAINST THE FAVORITES. We will do this by focusing on Double Chance bets. For each game, we will bet on the favorite NOT to win.
E.g. during Argentina (Home) vs. Iceland (Away), we will bet on "X2" which represents "Draw and Away" – meaning we win the bet as long as the favorite (Argentina) does NOT win.
Hypothesis 2:
We will bet on draws (remember, this is my area of expertise so I have to test it out). If you have read this blog, you'd know why I am such a huge fan of betting on draws. So much so I devoted the past 8 years to come out with a dedicated betting system revolving around betting on draws.
The question is: Will it work during the World Cup?
Sidenote: For all the betting strategies that I will test out in this blog post, I'll be assuming a fixed stake whereby we bet the same unit/amount on every bet. Not to be confused with my staking system that I talk about elsewhere on this blog.
Since it is difficult to analyze draws the same way we do for normal league games, I will just use the odds as a rough gauge and BET ON DRAW ONLY IF THE ODDS FOR IT IS LESS THAN 4.0.
Hypothesis 3:
During the group stages, games are more free-flowing and I expect many goals.
As such, betting on OVER 2.5 GOALS could be a great strategy. At least for the group stages, we will see many games that involve teams with a big gap in footballing standards. The goals will come.
Hypothesis 4:
Fairy tales of giant killers and David v Goliath upsets tend to be a common theme in many tournaments.
Unlike the strategy in Hypothesis 1 (betting on Double Chance with relatively low odds), why not just go for the bigger odds and BACK THE UNDERDOGS TO WIN.
YOLO, right?
Results of the 4 hypotheses
(using a simulation of the GROUP STAGE of World Cup 2014)
If anyone wishes to double-check my hard work, you can find all the data you need at this link.
Before we dive into the results, a few common sense disclaimers.
1) The sample size (of 1 world cup and 64 games) is small. Also, what happened four years ago will not necessarily replicate itself in 2018.
All I'm doing is to check if any of the betting strategies could be viable, as I truly believe the potential for market failure in the betting markets/odds is huge for a mega-event like the World Cup (i.e. certain outcomes tend to be consistently under- or over-estimated by the average bettor).
I'm sure I can find a bias in the market that could point to a VALUE BET that is specific to the World Cup (just as I've found betting on draws to be value bets during regular games).
2) To reiterate: I'll be assuming a fixed stake in this simulation whereby we bet the same unit/amount on every bet.
3) The winning bets are highlighted in GREEN and odds written down are the highest available odds offered among the major bookies (usually bet365 though).
Here are the results:
KEY FINDINGS (for group stage of World Cup)
[winning strategies are No. 3 & 4]
Finding 1: Betting against the favorite (using a double chance betting strategy) results more-or-less in a break-even scenario. Doesn't look like there is an opportunity in the market to exploit here.
Finding 2: Betting on draws (during the group stage) is a fucking disaster and you will lose money. Draws are rare here. Looks like teams are not evenly matched enough in the group stage. Please note that in this simulation, I only bet on draw if the odds were less than 4.0. There were a few matches where the odds were higher than 4.0 and they actually finished in a tie. However, even if you count those games, there were still very few draws in the group stage.
Finding 3: Betting on over 2.5 goals will give you a 30% profit. The average odds for "over 2.5 goals" is about 2.0 and yet two-thirds of games (32 out of 48) in the group stage ended with more than 2.5 goals.
Finding 4: Backing the underdogs to win will give you a 20% profit. Underdogs win less than 30% of the time (13 out of 48 games in the group stage), but you will win with greater odds (on average 4.5) so those wins really count.
Conclusion (Part I) – How to profit during group stage of the World Cup:
Bet on the underdogs to win, and bet on over 2.5 goals.



---
How To Make Money At World Cup 2018

(PLAY-OFFS)
From the Round of 16 onward, a few things will change.
Firstly, teams will be more evenly matched in quality/standard.
Secondly, they will play more cautiously as they cannot afford to lose, unlike at the group stage.
Thirdly, REMEMBER THAT THERE IS ALWAYS EXTRA-TIME (AND PENALTY SHOOTOUTS) IF A GAME ENDS IN A DRAW AFTER 90 MINUTES.
A lot of bettors may fail to take the third point into consideration. On the other hand, the players on the pitch are aware that they do NOT have to win in the first 90 minutes. Their hopes of winning the World Cup are still alive as long as they DON'T LOSE in the first 90 minutes.
So, if you haven't guessed my hypotheses for the knock-out stages yet…
Hypothesis 1:
It will be a great idea to BET ON DRAW. Some people will forget that they can actually bet on draw (because you're betting on the score after 90 minutes, NOT including anything that happens in extra-time or penalties).
I believe draws will be greatly undervalued here. I will bet on draw for every game of the knock-out stages, regardless of the odds, and see what happens.
Hypothesis 2:
Whenever I expect draws to occur, I also expect games to finish with UNDER 2.5 GOALS. Statistically, games that are low scoring are more likely to end in draws. That's why I love boring 0-0 and 1-1 scorelines, since they can make me so much money.
Add on to the fact that teams will adopt a more conservative and defensive style of play at this stage. Unlike the high-scoring thrashings that would be commonplace in the group stage, games will be more closely fought now (that doesn't mean Germany can't whip Brazil 7-1 again, but I digress).
Results of the 2 hypotheses
(using a simulation of the PLAY-OFFS of World Cup 2014)
Let's just get into the results, shall we? Because they are pretty amazing.
Here you go:
KEY FINDINGS (for play-offs of World Cup)
[both are great winning strategies]
Finding 1: Betting on draw will give you a 100% profit (you get to DOUBLE your money).
Just as I expected, draws are greatly undervalued by betting markets during the play-offs of the World Cup. Half (yes 50%) of the games ended in draws after 90 minutes and had to go into extra-time.
Unlike regular games where odds for draws are usually around 3 to 3.25, the average here is almost 4.0.
Finding 2: Betting on under 2.5 goals will give you a 35% profit.
In contrast with the group stage where 67% of games were OVER 2.5 goals, we have 75% of games in the play-offs with UNDER 2.5 goals. The average odds for "under 2.5 goals" here is 1.8.
Conclusion (Part II) – How to profit during the play-offs of the World Cup:
Bet on draws, and bet on under 2.5 goals.
---
Final Conclusion + How To Get My World Cup Betting Tips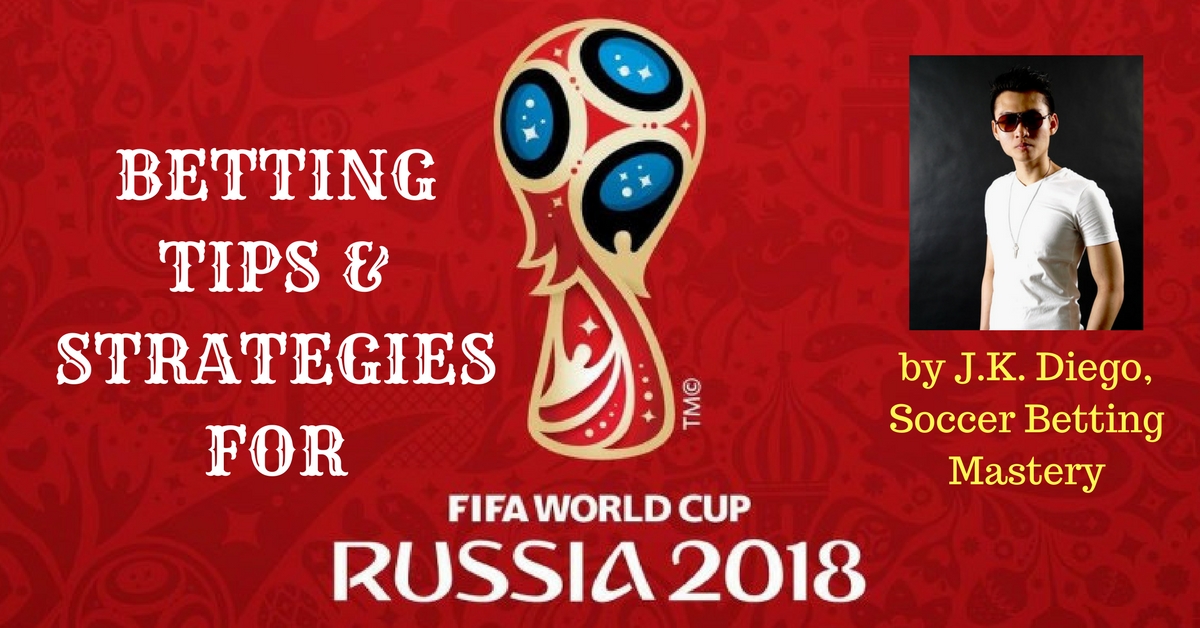 Going by the findings of this article, I will likely take a two pronged approach (group stage and play-offs) during the upcoming Russia World Cup 2018.
It's essential to approach soccer betting in a very systematic manner using data to your advantage – that is if you want to beat the bookies and make serious money.
If you want to receive more betting tips from me and my team during the World Cup, you can subscribe to my blog newsletter (for free!) with your email address in the box below.
For the most ambitious of guys who wish to take their betting journey to a whole new level, read about my exclusive winning team here.
See you guys in Russia! ENJOY WINNING!
Live Free Or Die,
J.K. Diego (JKDGO.COM)